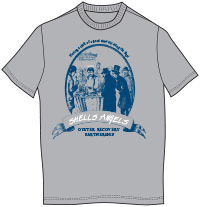 Want to become a SHELLS ANGEL?
Shells Angels are members of our Shell Recycling Alliance (SRA) members who receive "first served status" for any Oyster Recovery Partnership event, an invitation to our special summer Horn Point Lab Hatchery tour to see ORP's field operations, ongoing recognition in our online and social media outlets and recognition each year during our Mermaid Kiss Oyster Fest & "It's My Bay" Awards.  Learn how to reach our esteemed Shells Angels status below:
Citizens:
Recruit 10 new SRA Restaurants.
Raise or donate $500 to the SRA.
Restaurants/Corporations:
Throw ORP an event fundraiser at your establishment or raise/donate $5,000 to the SRA.
Donate 500 bushels of shell/year.
Bring ORP to your organization to facilitate a Corporate Shell Bagging Event.
For more information about these items, please call our office on 410-990-4970.
Click here to join the Shell Recyling Alliance.