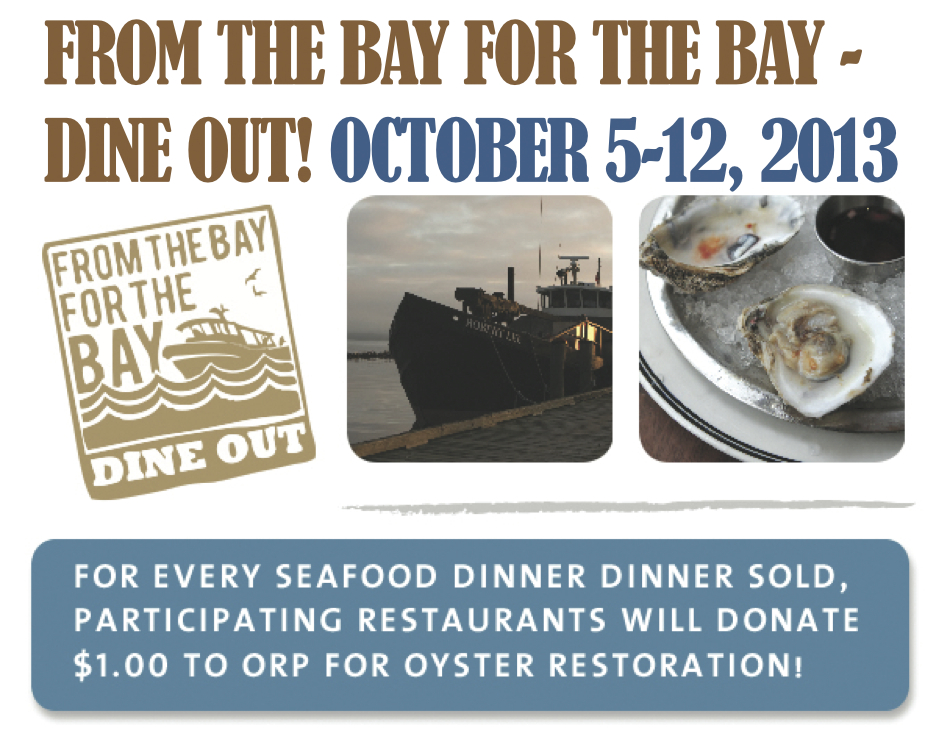 "From the Bay, For the Bay" is a celebration of Maryland Seafood from Philadelphia to Northern Virginia. During this week-long promotion from, October 5 – 12, 2013, participating restaurants across the mid-Atlantic will feature fresh Maryland seafood and provide their patrons an opportunity to support Chesapeake Bay watermen and the ecosystem. For every Maryland seafood dinner sold during the promotion, participating restaurants will donate $1.00 to the Oyster Recovery Partnership for oyster restoration. In the inaugural year of the "From the Bay, For the Bay" promotion, participating restaurants raised nearly $25,000 that is being used to recycle 750 bushels of shell and plant 2.5 million new oysters in the Chesapeake Bay!
October is an outstanding month for seafood with many species available including striped bass, crabmeat, oysters, flounder, dogfish, bluefish, lobster, and scallops being in season and on menus throughout the region.  This threefold promotion encourages eating local, sustainable seafood, promotes oyster restoration, and will also benefit local watermen who provide fresh Maryland seafood to the restaurant community.  ORP recognizes the event as an excellent way to support watermen, enjoy the seafood bounty of Maryland, and market our state's seafood to a larger audience.
The Oyster Recovery Partnership, along with its coalition of partners, is Maryland's leading nonprofit restoring oysters in the Chesapeake Bay. ORP has planted nearly 5 billion oysters on 1,500 acres of oyster reefs, and helped recycle nearly 1,200 tons of oyster shell. Each mature oyster is able to filter up to 50 gallons of water per day.
Encourage your local restaurants to participate in the program and patronize those who are already showing their support for our Bay. Have them contact Steve Vilnit at svilnit@dnr.state.md.us to register today.