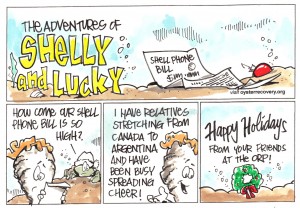 You can help us help the oysters of the Chesapeake Bay
Oysters are pretty cool creatures. They live most of their lives in a shell at the bottom of rivers or bays – except for those that get eaten! That may sound like a pretty boring life, but these animals are actually very important and very exciting. That's because oysters help clean up the water they live in. Oysters eat by sucking water through their bodies, pulling out the nutrients they need to grow. It's just like when you eat your fruits and vegetables. At the same time, oysters remove the bad stuff that pollutes the water and their bodies send clean water back into the waterway. Hundreds of years ago, there were so many oysters in the Chesapeake Bay that the entire bay was cleaned every few days. Now it takes more than a year!
Oysters are known as a keystone species. That means that water with oysters makes a good home for other animals, like fish and crabs. So we need oysters to have a healthy Chesapeake Bay. That's what the Oyster Recovery Partnership works on.
Kids can help.  Shelly, ORP's oyster mascot, and Lucky, Shelly's mud crab sidekick, have these suggestions:
Learn about oysters: Lots of schools and communities have environmental fairs and other events. Look for ORP at an event in your area. We'll teach you about how oysters are raised in laboratories (to help Mother Nature along) and how they are "taught" to live in the wild. If you visit our "Little Nippers" display, you can practice tonging for oysters like real Maryland watermen.
Recycle oyster shells: If you have friends or families who eat oysters, remind them to recycle those shells. Recycled shells are cleaned and used to make homes for baby oysters. Soon after oysters are born, they look for something to cling to so they can start eating and growing. We clean up old shell for these babies, since there is not enough shell in the Bay anymore. Lots of people and businesses help us recycle shell so we created a special club for them, called the Shell Recycling Alliance or "SRA."  Click here to learn more about the SRA and learn where you and your friends can take oyster shells to be recycled.
Spread the word: Encourage your friends and family to take good care of the Bay and all natural resources. Don't pollute the environment and recycle whenever you can.
Test your oyster knowledge:  Click here for a Word Game you can print out.
Plan an Oyster Project: Click here to learn about how you and your friends can work with ORP to help oysters.
Pearl Girls
Here's a group of kids that are helping oysters and the Chesapeake Bay. Five 6th graders created a cool video about recycling oyster shells. They visited restaurants to pick up used oyster shells and convince more restaurants to recycle. They decorated buckets for the restaurants to use. And they raised $1,000  for ORP's work to help oysters.  They call themselves the "Pearl Girls." Incredible work, ladies. Click here to learn more about them and watch a cool video they mad