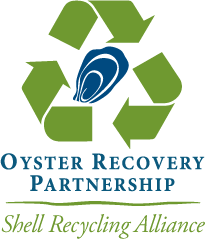 Ways for Citizens to Get Involved in Shell Recycling
ORP encourages your participation in restoring our Chesapeake Bay's depleted oyster population:
If your community or organization is holding a large oyster roast, please contact Bryan Gomes in the Oyster Recovery Partnership office on 410-990-4970 (office) or 410-991-2770 (mobile) to arrange for a special pickup.
Please encourage and/or recruit other restaurants, caterers and seafood whole sellers to participate in the Shell Recycling Alliance.
Finally, please recycle your oyster shell.  There are several designated disposal sites in Maryland. They include:
Collection Sites (Hours are noted for sites with restricted hours)
Anne Arundel County
Annapolis
Annapolis Maritime Museum
723 2nd Street
Annapolis, MD 21401
410-295-0104
Philip Merrill Center
6 Herndon Avenue
Annapolis, MD 21403
800-728-3229
Oyster Recovery Partnership Office
1805 Virginia Street
Annapolis, MD 21401
410-990-4970
Deale
Sudley Convenience Center
5400 Nutwell Sudley Road
Deale, MD 20751
(410) 222-1946
Hours: Monday-Saturday 8 a.m.-4 p.m. (except holidays)
South River Water Federation
Next to Yellowfin Restaurant
2830 Solomon's Island Rd, Suite A,
Edgewater, MD 21037
(Upper Parking Lot)
Glen Burnie Convenience Center
100 Dover Road
Glen Burnie, MD 21060
(410) 222-6118
Hours: Monday-Saturday 8 a.m.-4 p.m. (except holidays)
Severn
Millersville Convenience Center
389 Burns Crossing Road
Severn, MD  21144
(410) 222-6108
Hours: Monday-Saturday 8 a.m.-4 p.m. (except holidays)
Severna Park
Starbucks
573 Ritchie Hwy
21146 Severna Park
Severna Park, MD 21146
(Rear Parking Lot)
Shady Side
Oyster Restoration Center
4800 Atwell Road
Shady Side, MD 20764
443-482-2071
Hours: Monday-Friday, 8:30 a.m.-5 p.m.
Dorchester County
Cambridge
University of Maryland Center for Environmental Science
Horn Point Lab
2020 Horns Point Road
Cambridge, MD 21613
410-228-8200
Hours: Monday-Friday, 9 a.m.-3 p.m.
Hurlock
Beulah Landfill
6815 East New Market Ellwood Road
Hurlock, MD 21643
410-943-1700
Hours: Monday-Saturday 7 a.m.-3:30 p.m.
Church Creek
Golden Hill Transfer Station
3270 Golden Hill Road
Church Creek, MD 21622
410-397-3865
Hours: Monday-Wednesday, Friday-Saturday, 8 a.m.-4 p.m.
Secretary
Secretary Transfer Station
5915 Cambridge Road, Route 14
Secretary, MD 21664
410-943-8294
Hours: Monday, Tuesday, Thursday, 8 a.m.-4 p.m.
Queen Anne's County
Harris Seafood
433 Kent Narrows Way North
Grasonville, MD 21638
410-827-9500
Worcester County
Ocean City
66th Street at the site of the former water tower/OC Beach Patrol Storage Area
Use this map to locate a recycling center near you.
View Public Oyster Shell Recycling Sites in a larger map