A few dollars can plant thousands of oysters.
Why should I give to ORP? ORP is Maryland's leading nonprofit restoring oysters in the Chesapeake Bay. We are listed as a top-rated nonprofit receiving the Maryland Seal of Excellence, the Guidestar Exchange Seal and is an approved nonprofit with 1% for the planet. We ensure that over 95% of all donations go directly into oyster restoration. With 20 years of experience, we know how to Build A Reef!
Why Harris Creek? ORP has embarked on the largest oyster restoration effort ever seen on the East Coast, in Harris Creek — a tributary of the Chesapeake Bay. The coalition of partners that are "ORP" have the capability to restore hundreds of acres of oyster reefs by utilizing 20 years of experience and leadership to employ the most effective strategic approach – bringing back the Chesapeake Bay in a focused, holistic manner – one tributary at a time. The goal is to restore Harris Creek to oyster population levels last seen decades ago.
Why now?  The need to restore our osyter popluation is urgent as oyster reefs are considered one of the most endangered habitats in the world and in the Chesapeake Bay, we are losing an estimated 2,600 acres of bottom annually – depleting 99% of our oyster reefs. This directly affects water quality which directly affects a healthy seafood supply, family recreational opportunities and the economy. Healthy oyster reefs = a healthy Chesapeake Bay.
Funding is our only holdback as ORP and our partners have the capacity to produce 2 Billion oysters and plant 500 acres per year. For every $1.00 donated, normally 50 oysters are planted. However, for our "Build A Reef" campaign, each $1.00 will be matched with an additional $3.00 from a generous donor, allowing ORP to plant 200 oysters for every $1.00 donated! Therefore, for every $5,000 raised, ORP can recycle 100 bushels of shells and plant 500,000 oysters.
Why me? Because you can make a tangible difference.
Every dollar matters and we need your support. Please consider the many donation options below that include outright gifts, workplace giving, or specific program sponsorship. Our funding sources are diversified through grants from NOAA, DNR and private foundations — as well as donations from corporations and individuals.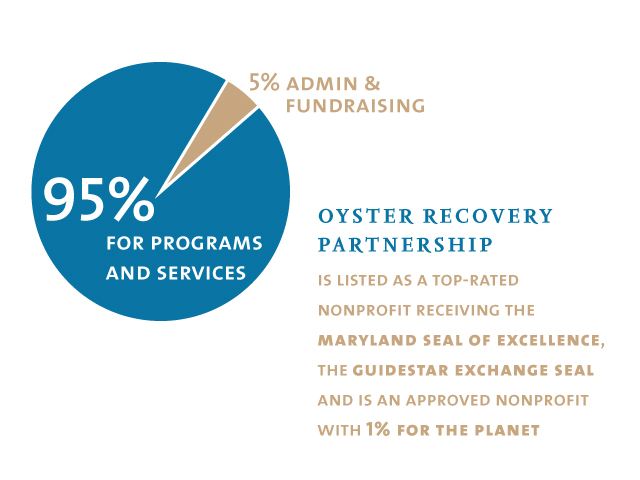 *Over 95% of all donations go directly into our restoration programs.
Donate Now
Build a Reef with ORP
Host an Event
Program Sponsorship
Workplace Giving 
Other Ways to Give
Contributions to ORP are tax-deductible to the extent permitted by law. Oyster Recovery Partnership is a full 501(c)(3) non profit organization.