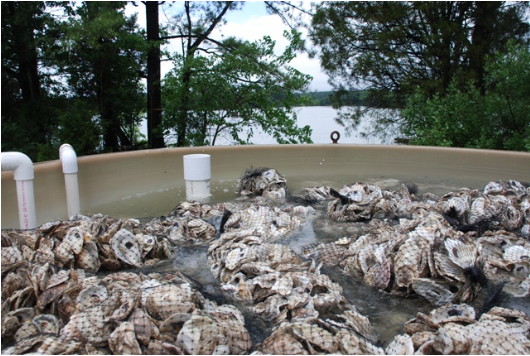 The Oyster Recovery Partnership together with its partners, including The University of Maryland Center for Environmental Science, offer a variety of programs and services to assist leaseholders in producing, managing and promoting their oyster farms and leases. Since the programs began, we have assisted more than 50 growers with their respective oyster farming programs.
Click here for a list of Maryland and Virginia Oyster Farms.
Purchase Oyster Larvae, Seed, and Shell
The Oyster Recovery Partnership is working with the UMCES Horn Point Oyster Lab Hatchery and the Maryland Department of Natural Resources to produce and offer high quality, hatchery-produced, oyster larvae, seed, and shell (shell for aquaculture remote setting program only).
To better serve Maryland's watermen and shellfish growers, this program offers a variety of C. virginica larvae, seed and spat on shell in various sizes, including disease resistant (DR) stocks (with 60 days advance order) and limited quantities of triploids.
2015 Spat on Shell and Shell Prices
Remote Setting and Training Program
ORP, in cooperation with UMCES, offers individuals the opportunity to produce their own oysters through the remote setting and training program. Remote setting enables lease-holders to cost-effectively produce their own oyster spat on shell without the complexity of a big hatchery. All that is necessary for success is some manpower and know-how, both of which are abundant in the watermen community. The growers are provided free training, larvae, and access to equipment.
Since 2010, we have trained nearly 50 individual growers in hatchery and/or remote setting operations. Collectively these watermen have produced and planted 700 million spat-on-shell in their respective leases around Maryland. Some motivated individuals have been repeat participants, producing and planting millions of oysters on their leases each year. They are using this program in conjunction with grants/loans that they received through MARBIDCO and NCRS loans to purchase shell for the remote setting and lease bottom hardening.
Leaseholders can sign up to use these remote setting systems at no charge. We provide use of tanks with all supporting equipment at nine locations across Maryland, from Crisfield on the Lower Easter Shore to Piney Point on the Western Shore.  Hands-on, technical support is provided to all participants, including introductory setting training to post-setting evaluations to determine how many were produced.  UMCES Horn Point Oyster Lab Hatchery provides the oyster larvae.  To participate, leaseholders must acquire or purchase their own shell and provide the labor to produce and plant their spat. Click here for an Aquaculture Case Study from three growers who participated in the program.
More Remote Setting Information.
For more about the Remote Setting Program, contact us at 410-990-4790.
Lease Mapping
Any participant in the Remote Setting and Training Program can get their leases mapped for free.  A seafloor survey report can help growers understand the condition of their lease.  Three different types of data products are collected during the survey report. Maps indicating the measured depth of the area, relative hardness and imagery of the seafloor and any objects present are collected. Interested in learning the bottom condition of your lease? Contact us at 410-990-4790.
Acquire a Lease
To learn more about how to obtain a lease please visit: http://dnr.maryland.gov/fisheries/oysters/industry/aquaculture/