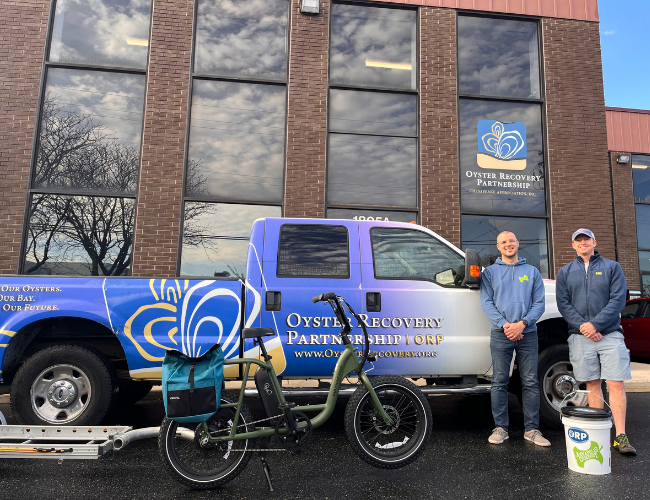 Announcing a new partnership to collect shells from homeowners in the Annapolis area! ORP and Annapolis Compost, a curbside composting business, are teaming up to make recycling oyster shells easier than ever for area residents. Annapolis Compost will now collect oyster shells from participating households, depositing them into ORP's existing network of public drop sites. This new partnership will increase the reach of the nation's largest shell recycling network into residential homes for the first time.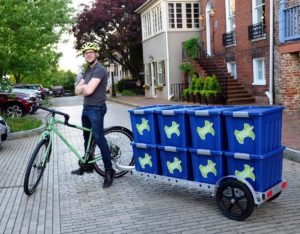 Annapolis Compost helps households and businesses in the greater Annapolis area eliminate 100% of their food waste through their curbside composting services. Karl Schrass, founder and co-owner of Annapolis Compost said, "Our mission is to create a healthier environment and stronger communities by defeating food waste. When we regularly started seeing oyster shells in with our customers' compostables we knew we had to work with ORP to get these shells back in the water where they can help clean up the Bay."
Oysters play a vital role in improving Chesapeake Bay health by filtering excess nutrients from the water, and their reefs create habitat for a multitude of marine life. Oyster shell is an essential building block for a healthy oyster population because it provides the hard substrate that oyster larvae prefer to attach to and grow. That's why ORP launched the Shell Recycling Alliance (SRA) in 2010, which has grown to be the nation's largest shell recycling network with nearly 200 member businesses and over 70 public shell dropsites in Maryland, Washington D.C., Virginia and Pennsylvania. The SRA has reclaimed 258,000 bushels of shell, which equates to 9,030 tons kept out of area landfills, approximately $700,000 saved by local businesses in waste collection fees, and enough substrate to support the planting of 1.29 billion spat on shell in Bay waters.
"We are thrilled to partner with Annapolis Compost to maximize shell collection because oyster shell is a critical but limited resource that's in high demand. Every new source of shell helps us plant more oysters," said Paul Schurick, director of partnerships with ORP.
After collection, shell is aged outdoors for one year, washed and then set with spat at the University of Maryland Center for Environmental Science Horn Point Laboratory Oyster Hatchery in Cambridge, MD. ORP then works with restoration partners to plant the spat-on-shell onto specially selected reefs throughout the Chesapeake Bay.
Learn more about ORP's Shell Recycling Alliance at oysterrecovery.org/sra.