While we believe Women in Science should be celebrated every day, today is a special holiday to highlight them and their accomplishments. Friday, February 11th is International Day of Women and Girls in Science and we'd like to take a moment to showcase the wonderful women of ORP!

[one_third]

[/one_third]
[two_thirds_last]
KAYCEE COLEMAN
Coastal Research Scientist
"I was one of those rare kids who knew what I wanted to be in high school, when my biology teacher introduced marine science as a profession. I had no clue what that truly meant or where my career path would take me but after that class my mind was set. I love the opportunities marine science has granted me to travel, experience remote sights and sensations, work with cutting edge technology, and build my confidence overcoming issues when things ultimately break or don't go as planned. My hope for the future is that girls have STEAM opportunities available to them and feel empowered to take advantage of them."
[/two_thirds_last]
[two_thirds]
SARA COLEMAN
Coastal Research Scientist
"While I was always interested in nature, I wasn't sure quite sure what I would study until I got to college. In my first ecology course, I was drawn to the idea of how all things work together, and that helped guide my future in science. I am motivated to leave the world better than I found it, which led me to coastal restoration. I love working at ORP because our efforts have a tangible impact on the Chesapeake Bay that will hopefully persist for many years. We get to work on diverse projects and with a variety of partners who share a common goal. When it comes to the future of science, I hope that girls are not afraid to pursue challenging goals, and that all people realize they can have an influence."
[/two_thirds]
[one_third_last]

[/one_third_last]
[one_third]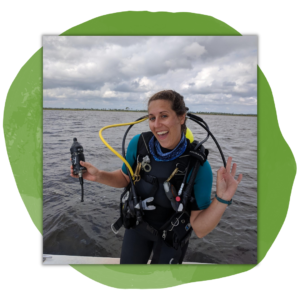 [/one_third]
[two_thirds_last]
OLIVIA CARETTI 
Coastal Restoration Program Manager 
"Pursuing a career in marine science was driven by two things: One, I love water. I was always (and still am) the last kid to get out of the pool, the one swimming in the ocean at dusk, the kid going out of her way to splash in puddles, the girl playing in the muddy banks of her backyard stream. And two, I've always wanted to see and know more about the natural world around me.
My favorite parts about my career are getting to explore, travel, and make connections with people and places. I love a good challenge and enjoy being creative in tackling the multitude of real-life problems facing our coasts. I am a "life-long learner" and constantly seek new opportunities to gain new perspectives, and understand how the world works and how humans interact with nature.
Being a scientist means you have a passion for inquiry – this is something anyone from any place and any background can do. My first hope is for girls and women to engage with their curiosity, regardless of their background. I also want these women to have equitable access to other women mentors who can help empower them, navigate the field, and build a strong support network."
[/two_thirds_last]
[two_thirds]
JEN WALTERS
Coastal Resource Scientist
"I consider myself fortunate that I grew up on the Eastern Shore of Maryland along the Chesapeake Bay, spending pretty much all of my time outdoors, primarily on the water. I also come from a family history of commercial fishing in the area. From hearing stories and witnessing with my own eyes the transitions away from commercial fishing as a career, changes in water quality, and declines in natural resources, I figured what better career path for me, than to pursue being on the water and conserving the resources that I grew up loving, while also helping to try to sustain the industry and culture.
I love that the marine science field has allowed me to have such diverse hands-on experiences, be involved with changes in management, and work with a variety of stakeholders, including industry members. It is rewarding to feel like you are doing something that you truly enjoy while also feeling like you are making a difference no matter how big or small that difference is.
Seeing the shift within the sciences field, just within my short professional career thus far, to being more female inclusive has been amazing to see and I can only hope that this trend continues, providing young women with the opportunities and confidence to pursue science as a career path."
[/two_thirds]
[one_third_last]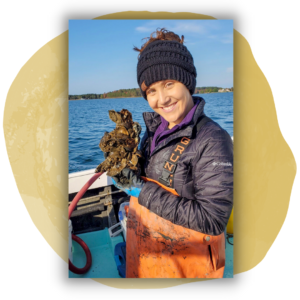 [/one_third_last]