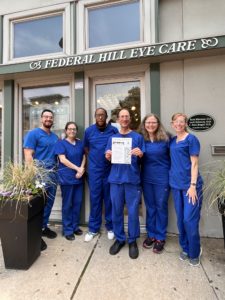 National Eyewear Day's right around the corner (June 6) and, in honor of the occasion, ORP is proud to a feature our partners at Federal Hill Eye Care, a Baltimore-based optometry practice with big appreciation for oysters! Dr. Scott Klasman had the brilliant idea to create a special line of "Chesapeake Eyewear" to raise awareness about the importance of oysters and help plant more in our beloved Bay – a portion of every pair sold funds ORP's restoration efforts. Learn more about what inspired Federal Hill Eye Care below – and visit them soon to see the full line of Chesapeake frames.
"When we named our new frame line Chesapeake Eyewear, we decided that we wanted to find a way to give back to the community, while giving our community an opportunity to proactively support something that is important and meaningful to us all, our amazing natural resource the Chesapeake Bay!
The Chesapeake Bay stands out as a beautiful symbol of what is wonderful about living in the Maryland region. Federal Hill Eye Care, like so many other members of the community, cherish the Bay. When we learned about the Oyster Recovery Partnership, we couldn't think of a more directly impactful way of supporting the Chesapeake Bay, as the filtration process of oysters improve the clarity and quality of the water in the Bay. One way ORP is achieving this, is through the creation of giant oyster reefs in the bay. They are actually the largest man-made oyster reefs in the world!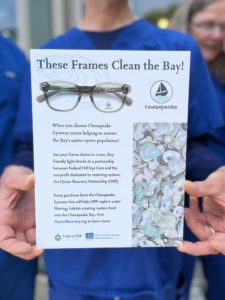 As amazing as the Chesapeake Bay watershed is, unfortunately there has been decreasing water quality. The Oyster Recovery Partnership is taking an active role in cleaning the Chesapeake Bay watershed by supporting the sustainability and productiveness of the bay, through the planting of baby oysters for current and future generations. A portion of every pair of Chesapeake eyewear goes directly to planting baby oysters to help create more oyster reefs.
We are delighted to help contribute to ORPs efforts to achieve this, while giving our patients the chance to also be in partnership as well, by selecting an awesome pair of stylish Chesapeake Eyewear frames! We are providing our patients with a quality pair of prescription frames and crystal clear vision to enjoy all the great things that the Chesapeake bay has to offer for years to come!" – Dr. Scott Klasman, O.D.
Federal Hill Eye Care provides the highest quality, compassionate eye care to ensure your family enjoys a happy and healthy life. They are a sincere company with a straightforward vision. With Federal Hill Eye Care, vision care goes far beyond a simple eye examination. They have a full range of optical equipment to ensure that you receive the quality care you deserve. Learn more: www.federalhilleyecare.com.