The Bay Paddle Presented by Flying Dog Brewery Kicks off Sept. 18 in Havre de Grace, MD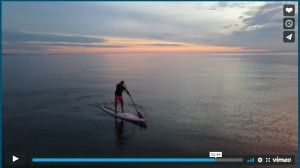 Click to view Bay Paddle documentary film trailer.
ANNAPOLIS, MD (September 17, 2020) – Annapolis native Chris Hopkinson will begin his ambitious 240-mile journey on Friday, September 18, launching from Havre de Grace, MD atop a 14-foot board and paddling to Virginia Beach, VA over the course of just nine days. The Bay Paddle, presented by Flying Dog Brewery, will take place September 18-26, to raise awareness and funds for the Oyster Recovery Partnership (ORP) to plant oysters in the Chesapeake Bay.
Hopkinson has set a fundraising goal of $200,000 to plant 20 million oyster spat in the Chesapeake Bay, with $130,000 currently raised through sponsorships and individual donations. He will launch from Concord Point Lighthouse in Havre de Grace and follow the route that mirrors that of Captain John Smith when he set out to explore the Chesapeake Bay in 1608. The route and timeline are dependent on weather and water conditions, but will be tracked in real time on baypaddle.org. 
Hopkinson's passion for helping the Bay was ignited just a few years ago when he realized the connection between oysters and water quality after viewing an ORP oyster filtering video. Chris decided he wanted to make a difference and officially announced his plans to stand-up paddle the entire Chesapeake Bay in support of the Oyster Recovery Partnership this past July.
"Growing up I had no idea the important role oysters played in the Bay's health," said Hopkinson. "When I heard they filter water, create habitat, and that the population was critically low, I knew I had to help. The idea of paddling the entire Bay struck me as a way I could draw attention to this important story." 
The campaign has brought in a wealth of supporters, donations and words of encouragement for Hopkinson, who has been working hard to not only train for the paddle (up to 20 hours per week), but to seek funders, write blogs, film videos, and meet with news outlets to spread the word. His efforts have paid off, with funds coming in from 26 states and several countries. 
"Chris is an inspiration to all of us," said ORP Executive Director Ward Slacum. "He's spent countless hours preparing and training for the Bay Paddle and helping raise funds to build important water-filtering oyster reefs in both Maryland and Virginia. We're indebted to Chris for drawing so much attention to the value of oysters and to the donors and sponsors who have supported this campaign. We look forward to greeting Chris at the finish line and celebrating the Bay Paddle's success." 
In addition to ongoing support from the public, Flying Dog Brewery signed on as the event's title sponsor. Maryland's largest brewery has been a longtime supporter of ORP, creating special beers and events to support the organization's mission. Add to that, Bryan Gomes, youth educator with the nonprofit ClearSharkH2O, will be kayaking alongside Hopkinson providing virtual nature lessons and water quality sampling activities. Additionally, OLD BAY, the Chesapeake Bay region's well-known and well-loved seasoning, has committed to support this endeavor.
"For more than 80 years, OLD BAY has been a part of the Chesapeake Bay community. As THE seasoning for much of the seafood that comes from the Bay, OLD BAY is honored to support the Oyster Recovery Partnership and Chris in this extraordinary fundraising effort to promote the health of our region's vital resource and foster more local seafood for generations to come," said Jill Pratt, Chief Marketing Excellence Officer for OLD BAY, a brand of McCormick.
Other area businesses who have gotten behind the cause include Perdue Farms, Royal Farms, TowBoatUS Baltimore and Chesapeake Bay Magazine. In an effort to expand the Paddle's impact, The Nature Conservancy has partnered with ORP and Bay Paddle to help apply funds to build oyster reefs in the Virginia portion of the Chesapeake Bay. 
"We are honored to be partnering with Chris in this truly inspirational initiative," said Andrew D. Lacatell, Virginia Chesapeake Bay Director, The Nature Conservancy. "This is a great example of 'thinking big' and being willing to make a significant investment that will have lasting results, much like the oyster reef restoration work this fundraising effort will support."
Chris said he is overwhelmed by all of the support the Bay Paddle has received. "It means a lot to me that so many people are committed to doing more so that our kids can enjoy paddling, swimming, boating and fishing the way generations before us did," Hopkinson added.
People interested in following along and learning more about the importance of oysters to the health of the Chesapeake Bay, can go to the Bay Paddle website, baypaddle.org. A $10 donation directly supports the planting of up to 1,000 juvenile oysters that will grow to provide critical habitat for underwater life and clean Bay waters. To donate, visit the website or text BAYPADDLE to 44-321.
---
About Oyster Recovery Partnership:
Oyster Recovery Partnership is a Maryland-based 501-c3 nonprofit that uses the latest innovation in science, collaboratively with its partners, to produce spat on shell and deploy the resulting juvenile oysters onto scientifically-selected sites in the Chesapeake Bay. These efforts aim to bolster oyster populations,assist oyster farmers in a production, support wild fishery harvests and re-create large, healthy reefs. Over the past two decades, ORP has planted 8.5 billion oysters on 2,500 underwater acres throughout Maryland. Learn more at oysterrecovery.org.
About Flying Dog Brewery:
As one of the fastest-growing regional craft breweries in the United States, Flying Dog has been brewing world-class beer that pushes the confines of traditional styles for 30 years. Flying Dog attracts everyone from craft beer connoisseurs to those just catching the wave with up to 20 styles available at any given time. Introduced to Flying Dog by the Gonzo writer Hunter S. Thompson, artist Ralph Steadman has produced original art for Flying Dog's labels since 1995. Recent accolades for Flying Dog include its Pale Ale ranked as the #1 American Pale Ale in the U.S. by The New York Times . For more information, visit flyingdog.com. Flying Dog is now available on Drizly.
Contacts:
Oyster Recovery Partnership: Karis King, Media Relations; [email protected]; 410-829-6431
Flying Dog Brewery, Eve Butt, Director of PR, [email protected], 610-761-2558