ORP and Severn River Association are asking for YOUR support for Operation Build-a-Reef: Severn River! The 2021 goal is to plant 20 million juvenile oysters in Annapolis' most iconic waterway. Title sponsor Smyth Jewelers is giving Operation Build-a-Reef a boost, promising to plant 1,000 oysters for every engagement ring sold from May 18 – September 30! And thanks to a $10,000 match, YOUR support will plant double the amount of oysters this year! Every donation – regardless of size – makes a difference to the health of our beloved waterway. Give today!
How is planting more oysters going to help the Severn? There used to be enough oysters in the Chesapeake Bay to filter the entire volume of water in only one week. Unfortunately, historic overharvesting, pollution, and disease have caused the oyster population to dramatically decline. Oysters are important because they feed by filtering water through their gills, which removes excess nutrients – like nitrogen and phosphorous – and sediments. In fact, just one adult oyster can filter up to 50 gallons of water a day! Oysters are not only water filtering machines, they also provide crucial habitat to other native marine life. Oysters natural growth into reefs provides hiding places for small fish or juvenile Blue Crabs – and a stable, strong foundation to help protect shorelines. Imagine the impact of 20 million new oysters on the Severn's health!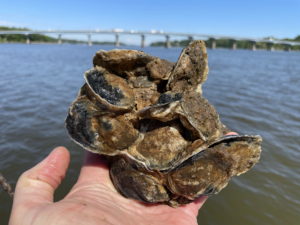 The Severn River is an integral part of Annapolis' landscape and culture. That's why the Operation Build-a-Reef grassroots fundraising effort was originally created – and why it has been historically successful! In 2018, in conjunction with support from Maryland Department of Natural Resources, the first Build-a-Reef campaign raised enough funds to plant 45.1 million oysters between the Severn River and Naval Academy bridges. In 2020, an additional 16.9 million spat-on-shell were planted in Weems Creek near the Severn River Bridge. Recent monitoring by the Severn River Association shows these oysters are surviving – this photo from May 2021 shows a growing clump from the Wade II reef!
Let's come together this summer to plant 20 million more oysters in the Severn! With YOUR help, and the support of your community members who live on and recreate in the River, the third Build-a-Reef effort will be a success. Donate to Operation Build-a-Reef: Severn River at www.buildareef.org