This week, the Oyster Recovery Partnership (ORP) is proud to assist Baltimore County with an important project to remove derelict fishing gear from the mouth of the Patapsco River off the North Point Peninsula. The project will enhance the blue crab fishery, reduce ghost pot bycatch, and employ watermen to reclaim and recycle lost gear.  
The Chesapeake Bay supports the largest commercial blue crab fishery in the United States as well as extensive recreational and commercial shipping activities. Derelict fishing gear, especially crab traps (aka ghost pots), accumulate where these activities overlap. Ghost pots hurt the commercial blue crab fishery because it interferes with active gear, and harms other fish.  
The derelict fishing gear removal project is a model of cross-sector partnership to achieve positive environmental and economic benefits. The Baltimore County Department of Environmental Protection and Sustainability is providing mitigation funding with ORP overseeing the project. ORP relies on sidescan sonar mapping to identify oyster restoration areas throughout the Chesapeake Bay, and that process informed the Baltimore County project. Sidescan sonar mapping, completed by Versar in December 2021 and January 2022, was used to identify areas in the Patapsco that are heavily crowded with gear and debris. This month, fourteen local watermen crews are conducting five days of retrieval operations with the goal to collect 1,500-2,500 ghost pots and recycle/reuse materials wherever possible.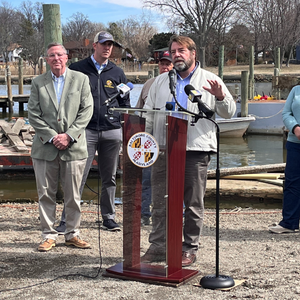 "Bringing together the environmental science community and county government to work alongside our local watermen to clean up the Chesapeake Bay represents a real win-win project," said Baltimore County executive Johnny Olszewski at a March 3 press conference. "In removing thousands of derelict crab pots, we not only protect and improve the environment, but we do so in a way that also supports the watermen and small businesses who depend on the Bay for their livelihood."  
Local coverage of this project: