Shucked product will be donated as Oyster Stew to Homeless Organization in West Baltimore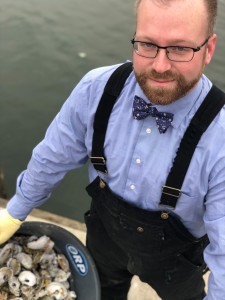 The Oyster Recovery Partnership (ORP) is hosting a 12-hour, virtual Shuck-a-Thon in support of Maryland Seafood from 8 a.m.-8 p.m. on Giving Tuesday, December 1. Streaming live from Phillips Seafood Restaurant in Baltimore, ORP staffer and competitive shucker Dan Worrell will attempt to shuck 3,000 oysters, which will be donated as oyster stew to Paul's Place, a homeless services organization serving Baltimore communities.
"This Giving Tuesday we wanted to take the opportunity to support causes near and dear to our organization," said Worrell. "The Shuck-a-Thon was a way for ORP to use our platform to honor the spirit of the season and shine the light on our friends in the seafood industry hard-hit by the pandemic."
With restaurants closed or operating at limited capacity, dining and seafood sales have dropped dramatically. This especially affects the oyster industry, as harvesters have thousands of ready-to-eat Chesapeake Bay oysters and limited places to sell them. ORP's Shell Recycling Alliance is also experiencing a critical shell shortage that will affect future reef restoration projects.
Recognizing these issues, ORP has spent the past several months encouraging residents to enjoy the Bay's bounty at home by promoting local oysters, hosting virtual shucking workshops, highlighting public shell collection sites, and sharing a comprehensive guide on how consumers can support the seafood industry.
Sponsored by Maryland's Best Seafood and Phillips Seafood, the Shuck-a-Thon will take place at the restaurant's Baltimore location and feature virtual guest appearances by a variety of oyster industry businesses and supporters. Guests include representatives from Chesapeake Bay Roasting Company, Chesapeake Collection, Flying Dog Brewery, Maryland Comptroller Peter Franchot, Maryland's Best Seafood, ORP, Oyster Ninja, OystersXO, Paul's Place, Phillips Seafood, Smyth Jewelers, The Local Oyster, The QG, and Wither Hills Winery.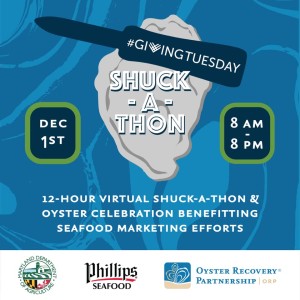 The Shuck-a-Thon will culminate with a week-long Oyster Celebration Menu at Phillips Seafood Restaurant Baltimore (601 E. Pratt St. Baltimore, MD 21202) December 1-6, benefitting the Giving Tuesday campaign. All oysters for the event have been purchased direct from local oyster businesses, and the shells will be recycled through ORP's Shell Recycling Alliance.
"Oysters are a very significant part of the ecosystem of the Chesapeake Bay, and of the economy of the seafood industry in our region," said Steve Phillips, owner of Phillips Seafood. "We're happy to partner with the ORP as they showcase the solutions available to improve the environment and expand opportunities in the Bay and beyond."
ORP has set a goal to raise $15,000 to support seafood marketing efforts, including fostering strong relationships between harvesters and buyers, creating seafood awareness initiatives, and supporting shell recycling efforts. To learn more, view a speaker schedule or donate to the cause, visit https://oysterrecovery.org/givingtuesday2020/.
###
Oysters play a vital role in improving Chesapeake Bay health by filtering excess nutrients from the water and creating reef habitat for a multitude of marine life. Over the past two decades, the Oyster Recovery Partnership has planted approximately 8.5 billion oysters on 2,500 underwater acres while recycling 225,000 bushels of shell. Learn more Oysterrecovery.org.
Anchored in family tradition, Phillips Seafood Restaurants serves premium quality seafood, provides outstanding service an