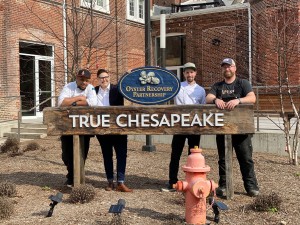 The Oyster Recovery Partnership's shell recycling program has grown by 26 restaurants over the past year, boosting collection totals and the capacity for Chesapeake Bay oyster restoration projects.
"We're fortunate that the Shell Recycling Alliance continues to grow as local businesses and individuals come to understand the important role oyster plays in creating water-filtering oyster reefs," said Shell Recycling Alliance Operations Manager Tommy Price. "In fact, we just celebrated our most successful collection year in 2019, a true testament to our community's support of oyster restoration projects in the Chesapeake Bay."
In Maryland, the newest Shell Recycling Alliance members are:
In Washington, D.C., The Admiral, King Street Oyster Bar and Roy Boys at Navy Yard.
And in Pittsburgh, Pennsylvania, Luke Wholey's Wild Alaskan Grill.
ORP's Shell Recycling Alliance is the largest shell recycling network in the nation with 340 member seafood businesses and 70 public shell drop off sites throughout Maryland, Washington D.C., Northern Virginia, Pittsburgh, Pa. Through the program, the Oyster Recovery Partnership works to ensure that shell is kept out of landfills and, instead, used to rebuild oyster reefs in the Chesapeake Bay. A true team effort, the shell is collected by both ORP staff and a handful of dedicated volunteers, such as Bay B Beautiful.
Oyster shell is an essential building block for a healthy oyster population because it provides oyster larvae a place to attach and grow. After collection, shell is aged outdoors for one year, washed and then set with spat (baby oysters) by the University of Maryland Horn Point Oyster Hatchery in Cambridge, Maryland, and finally, planted on strategically chosen oyster reef sites where it can continue to grow and provide water quality benefits.
On a national scale, shell recycling is becoming a mainstream practice among coastal communities and businesses, some of which are highlighted here. Businesses and individuals who recycle their shell in Maryland are eligible for a state tax credit of up to $1,500 annually. Learn more about this free service at shellrecycling.org.