Thanks to a new partnership between ORP and TCP Youth Empowerment, area youth will be helping to build oyster cages for the Marylanders Grow Oysters Program! This post is written by two TCP participants, Caris and Kaiya, who are rising high school freshmen with a passion for oysters and Bay restoration.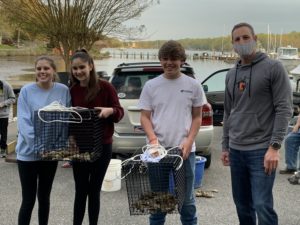 "We were inspired to start Bay Restoration & Conservation after getting the opportunity to start a passion project of our choice, thanks to the TCP Charity. Kaiya had the idea of basing our project around oysters and giving back to the Chesapeake Bay.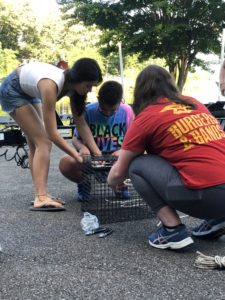 Tasked with creating a business plan presentation through the TCP Youth Empowerment program, we thoroughly researched oyster farming and the environmental impact they have on the Bay. After presenting our project as a requirement of the TCP program, we were provided the opportunity to present to the Glen Burnie Rotary which led us to Bob Parkinson (oyster professional and Owner of Moonstruck Oysters), who guided us through the process of oyster farming and gardening. He also taught us how to build oyster cages and played a huge part in helping us bring our idea/event to life. 
To fund our project, we received money from the Glen Burnie Rotary Club and it's members, who fell in love with our idea after we presented our business plan to them. Their generosity led us to raising $1,200 that night. We also filled out a grant from Youth Service America which led us to another $500.
We held our first Bay Restoration & Conservation event on Friday, April 23, which was Day 1 of the Youth Service America Global Youth Service Day weekend. In the weeks leading up to it, Kaiya and I worked on a marketing plan, writing an agenda, and we prepped the materials for the cages. 18 local middle and high school youth attended this event and we managed to build 11 oyster cages. With Mr. Bob's help and the help of local homeowners, we were able to fill each cage with oyster spat that will produce 100 adult oysters each, and place them in local rivers on residential piers.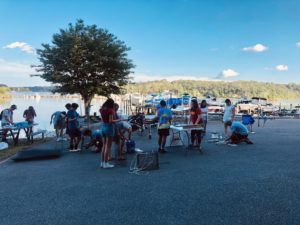 With such a successful first event, we decided to hold a second event on Friday, June 14th, that produced 14 oyster cages with help from another 14 local middle and high school youth. After finding more local homeowners to start farms, we are proud to say that 8 of those cages are now in the water. The other 6 cages were donated to the Oyster Recovery Partnership (ORP), a new partner of TCP Charity! TCP is excited to work with ORP to support the Marylanders Grow Oysters program by building new oyster cages and helping to recruit new MGO participants!
As Kaiya and I move on to high school in the Fall, we hope to stay involved and hold future cage building events – and we will continue to advocate for Bay restoration!"
Keep up with TCP's activities by following them on social:
Instagram: @tcpyouthempowerment
Twitter @tcp_ye