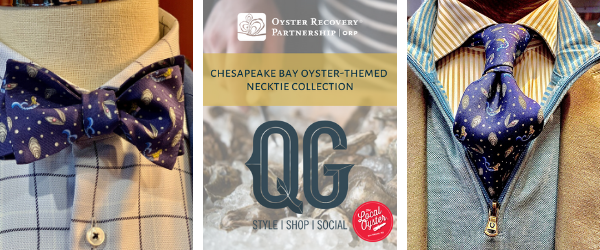 Announcing the Chesapeake Bay Oyster-Themed Necktie Collection
Proceeds Benefit Oyster Restoration. Special Collaboration with The QG. Limited Release, Only 100 Ties Available.
Part Botticellian masterpiece, part luxury, part great cause, this Chesapeake Bay oyster-inspired neckwear collection arrives just in time for Easter, Baltimore's premier "Bourbon & Bowties" event, and Preakness! This collaboration with the QG supports our important work to restore Maryland's native oyster population and improve the Chesapeake Bay's health. Available as a necktie or bow tie, these unique beauties were designed by Geoff Nicholson and made in Italy of finest silk in a pattern reminiscent of the iconic brand Hermes. The background mimics Pantone's 2020 color of the year, "Classic Blue." With only 100 available, these ties will disappear faster than an oyster shooter. Add some whimsy to your wardrobe that'll do some good for our beloved Chesapeake Bay.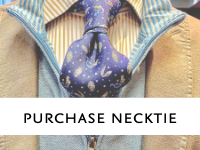 https://www.theqg.com/accessories/oyster-recovery-partnership-necktie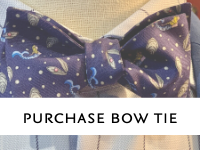 https://www.theqg.com/products/oyster-recovery-partnership-bowtie-7aedj?_pos=1&_sid=38e65e992&_ss=r" target="_blank
Join us on Monday March 2 from 6-9 PM at QG's Clock Bar for the official neckwear launch event complete with three freshly shucked oysters and delectable beer or cocktail of your choice. Purchase your launch event ticket here. Special thanks to The Local Oyster for providing oysters!