ORP sat down with Billy Abbot and Henry Jager, the founders of Pherm Brewing Co., to learn where the idea for their first Oyster "Phest"ival originated and chat about two new, limited edition brews that support planting oysters! Buy tickets today!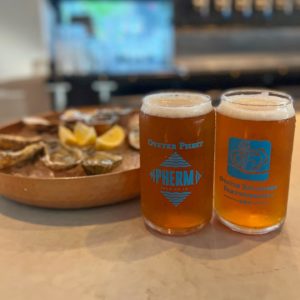 When did you try your first oyster?


Billy: I tried my first oyster at a wedding in 2012.




Henry: This isn't flattering, but it was an Oyster shooter DTA ~2011 when my wife, Mauri and I were visiting home from Colorado.

What are your favorite kind of oysters?


Billy: I like any big Chesapeake oysters!




Henry: Local and fresh, of course!

Why is bay conservation / restoration important to you and why did you want to partner with ORP?


Billy: I spend a lot of time on my kayak in the bay and I enjoy all the delicious bounty it has to offer. When I first met the wonderful people who work at ORP I knew I wanted to help do my part  by throwing a festival that promotes Maryland oysters.




Henry: Maryland has and always will be home. I remember summer camps and school projects growing up that let us have a hands on approach to wildlife and conservation. I left Maryland for a little bit and went to school at the University of Colorado at Boulder and graduated with a degree in Environmental science with a focus in Chemistry.  Having two little girls and one more girl on the way, Mauri and I want them and future generations to be able to enjoy the Bay! Partnering with ORP is exciting for multiple reasons! Oysters, helping the bay, having fun, and then meeting the team at ORP has us as happy as could be to be working together with great people and supporting and even more important cause.

What are you most excited about for these two limited edition beers? What can you tell us about them?
Amidst The Pearls Of Laughter – IPA:
We wanted an easy drinking and non-filling IPA to be enjoyed in the sun or evening with friends while listening to live music and enjoying food and good company. Extremely light to non-existent bitterness and focusing on flavor, aromatics, and body were our goal. Pairing one of our favorite hops, Strata, with notes of tropical fruit and bodacious dank seemed like a fun way to go. Accentuating the Strata kettle additions with Idaho Gem and New Zealand Motueka continues to play towards a burst of ripe, tropical fruit, while also touching on a zesty, lemony undertone with notes of juicy fruit gum. Loads of care on the temperature and pH of the wort along with contact time of the hops with the wort are key for a style like this.
The Salt That's In Our Beers – Cucumber Gose
This is a key ingredient that I'm a bit surprised we haven't touched on. My wife, Maurirose, and I personally juiced 300# of Cucumber when we were brewing together in Boulder, Colorado for an all Colorado ingredient concept series we had done out there. While that beer wasn't a sour, we were all salting fresh cucumber and eating it with the leftovers after we hit our goal. Prior to opening Pherm, Billy and I had concocted a list of beer names that exceeded 500, some very good, some repeated, some very…not good. This was one that was highlighted on the spread sheet and kind of forgotten, but the timing is right and here we are!
The Salt That's In Our Beers/Shakedown Shandy Build Your Own Variant Bar
We love brewing sours for the endless amount of science, brewing care, and culinary worlds that we can bring together and have fun with. After a lot of great conversations with everyone on some other Cucumber beers you've tried and possible ideas for some variant kegs of this beer, an old idea returned to me while brewing this morning…We haven't formally announced this, but our hopes for this release at Oyster Phest will be to have a Build Your Own Beer Variant Bar where we'll have a mix of syrups, fruits, juices, spices, herbs, etc to blend with this Cucumber Gose as well as our Shakedown Shandy, to have a true, interactive experience with everyone. All draft beer and bar concoctions will be included with the ticket price, and this is a perfect environment to play and test some ideas and learn with each other. The best blends could even morph into a future beer, who knows!
5. Who are the bands playing at the event?

Billy: Shawn Owen is this awesome reggae, jam, ska party-music band from Annapolis, MD.  Skribe is such a unique and cool band to add to this lineup… They call it "garage folk," perhaps because the music is crafted without any more polish than it needs to showcase the allure of its soulfully delivered down-to-earth lyrics. The focus of Skribe's sound is rhythmic acoustic strumming and plucking with emphatic vocals that epitomize the musical landscape of the area's small-town city feel. Oh, and there is a kazoo!?
Henry: Lots of good local, fun, and a diverse range of music! This will be the first indoor and outdoor event we've had at the brewery and we're excited to have two stages to keep music going through the entire event. Skribe will kick things off 12- 2 pm on the indoors stage for a special VIP set and walk in/start up music for everyone. Shawn Owen will rock the outdoor stage from 2 – 4 pm with some perfect outdoor vibe music, and Poster Nutbag will close out the festivities from 4-6 pm inside with a full band performance. Can't wait!