Partners Introduce Shucking Kit Supporting Chesapeake Bay Restoration
Oysters XO and the Maryland-based Oyster Recovery Partnership (ORP) have joined forces to take the guesswork out of shucking. As part of a collaborative effort to support the oyster industry and aid at-home shuckers, the partners recently unveiled their Oyster Starter Kit that provides an immersive, direct-to-consumer oyster experience.
"The Chesapeake Bay is home to some of the world's best oysters, yet many people are not confident shucking them at home," said ORP Director of Partnerships Paul Schurick. "We've teamed up with Oysters XO to give oyster-lovers the tools and confidence to shuck on their own, all while helping promote and support local oyster farms."
Many Chesapeake Bay-area restaurants are still operating at reduced capacity with limited menus due to COVID, resulting in thousands of ready-to-eat Chesapeake Bay oysters. Recognizing this need, ORP has spent the past several months encouraging residents to enjoy the Bay's bounty at home, including hosting virtual shucking workshops. These lessons caught the attention of Rifko Meier, owner of Oysters XO, a New York City-based luxury mobile shucking experience. Oysters XO and ORP decided to join forces, not only on the kit, but a virtual event last month, Sip N' Shuck-Off, which featured a friendly competition between the partners.
"With events being non-existent over the past few months and farmers with perfect oysters and nowhere to sell them, we needed to bring the Oysters XO experience into our customers' homes," said Meier. "So many people enjoy the fun, social nature of picking crabs, yet are intimidated when it comes to opening a raw oyster. The kit aims to make shucking a fun, foolproof experience for everyone to enjoy at home, just like a crab feast."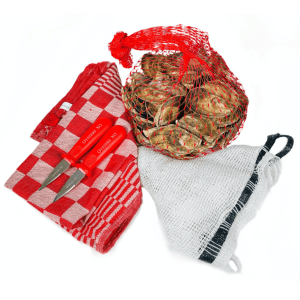 The Oyster Starter Kit is equipped with the tools for two guests to easily learn to shuck. Each kit features 36 premium Maryland oysters, two shucking knives, a Dutch towel, a virtual shucking class and express delivery. Each kit retails for $150 with all proceeds going to oyster restoration. The purchase of one oyster kit supports the planting of up to 5,000 oysters in the Chesapeake Bay, which can filter as many as 6 million gallons of water per day. See below for more interesting oyster filtering facts:
1 Oyster = Filters 50 gallons water/per day
$1 replants 100 oysters
50$ = 5000 oysters = 6 million gallons
1 Olympic swimming pool is 500,000 gallons
12 Olympic Swimming pools
To purchase your kit, click here.
Once the shucking is through, ORP encourages everyone to recycle their shell. Oyster shell is the best, most natural material used to rebuild oyster reefs but it's also in in very short supply. To save this ecologically important byproduct, ORP created the Shell Recycling Alliance in 2010 to reclaim shell, free of charge, from restaurants and other seafood businesses. Shell that otherwise would be dumped in landfills is now recycled, cleaned, treated with baby oysters and put back into the waters of the Chesapeake Bay. Visit shellrecycling.org to learn more about the program and find a shell collection site near you.
###
Oyster Recovery Partnership is a Maryland-based 501-c3 nonprofit that uses the latest innovation in science, collaboratively with its partners, to produce spat on shell and deploy the resulting juvenile oysters onto scientifically-selected sites in the Chesapeake Bay. These efforts aim to bolster oyster populations, assist oyster farmers in a production, support wild fishery harvests and re-create large, healthy reefs. Over the past two decades, ORP has planted 8.5 billion oysters on 2,500 underwater acres throughout Maryland. Learn more at oysterrecovery.org.
Oyster Chef Rifko Meier started Oysters XO in 2012 with Oyster Girls shucking Super Bowls, Movie premieres and the most beautiful weddings. Now the Oyster Girls & Guys teach America how to clean, store and shuck oysters. And they share their favorite recipes, pairings and answer oyster FAQ's. The World is your Oyster… Check them out at oystersxo.com.