What's not to love about a Thanksgiving staple that features our favorite bivalve? This stuffing is the dressing of an oyster lover's dreams!  The secret ingredient is the liquor, which makes the dressing extra moist and flavorful. It wouldn't be Thanksgiving on the Chesapeake Bay without a little "kiss from the sea!"
Enjoy this recipe – and, if you make it, be sure to take a pic and tag us on social, @oysterrecovery!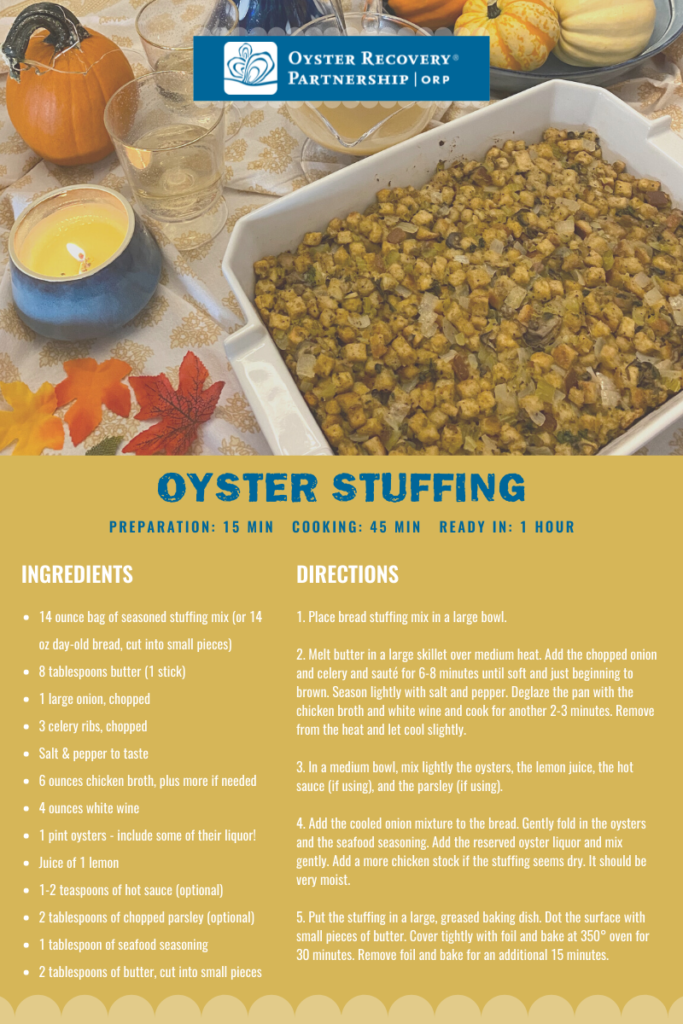 Impress Your Guests with a Little Oyster Dressing History
Oysters had been used with or without bread crumbs for stuffing poultry or fish over 300 years. The earliest cookbook reference is from 1685, found in The Accomplisht Cook, London, "Sauce with Oysters and Bacon". The oysters were cooked and mixed with spices and herbs then stuffed in a pullet's (young chicken's) belly and roasted. The tradition of oyster dressing was brought over from British colonists that settled in America. Here in the US, oyster dressing is a favorite of seafood lovers, anyone who grew up or lives on the water, and adventurous eaters alike!
Happy Eating!