February's cold temps are the excuse we need to stay indoors, adopt the hygge lifestyle, and enjoy perfectly paired wine and oysters with our Valentine, COVID bubble, or both! Oysters can have very different flavor profiles depending on where they're grown or harvested. Typically, east coast oysters are salty and briny while west coast oysters are sweeter and creamier. This post will help you learn to pair wines with Chesapeake Bay oysters so that you'll be ready to impress when spring and summer temps entice us back outdoors for socially-distant fun.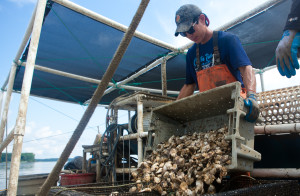 To support the Chesapeake seafood industry, hit hard by the pandemic, please buy local oysters! Maryland's Best has a great direct to consumer map, and we put together this this useful list of aquaculture farmers who're offering pick-ups, deliveries, pop-ups, and more.
IF IT GROWS TOGETHER, IT GOES TOGETHER
When you're thinking about pairing, remember "if it grows together, it goes together." For that reason, Chesapeake Bay oysters pair exceptionally well with Sauvignon Blanc varietals grown at or near the coast, which heightens the brininess and acidity of the wine. (We may be biased, but…) Our friends at Wither Hills produce a beautiful Sauvignon Blanc, which when paired with oysters is the "enological equivalent of twisting a lemon onto your oyster right before you eat it." Delicious!
Jason Whiteside, DWS, CSW holds the Level 4 Diploma from the Wine & Spirit Education Trust (WSET), and is a WSET Certified Wine Educator. He is currently employed as the District Sales Manager for Northern Virginia at Winebow, a wine importer and wholesaler located in Glen Allen, VA.
Sidenote: Really impress friends and family by describing oysters' "merroir" as to wines' "terroir"…
More "classic" wine and oyster pairings are French varietals like Muscadet, Chablis, and Champagne. These wines are crisp and clean and don't compete with oysters' subtle-yet-complex flavors. Check out this Food and Wine article for more details.
WHAT ABOUT RED WINE?
Mixing red wine and oysters is tricky. The wine should ideally be fresh and lively, not heavy or with harsh tannins. If you have a strong preference for reds, then give Wither Hills' Rose of Pinot Noir a try! It gives you a fuller-body experience without the overwhelming tannins.
Jason Whiteside participated in our July 2020 virtual Sip 'n Shuck event along with Dan Worrell, competitive oyster shucker and proprietor of Shell and Barrell.
Want more red ideas? This Eater article lists some specific reds to try, and this New York Times article details the author's reactions to this unconventional pairing.
SUPPORT THE WINES THAT SUPPORT OUR COMMUNITY
Wither Hills, established in 1994 and based in Marlborough, NZ is committed to sustainability and is accredited with Sustainable Winegrowing NZ. Through a generous donation, Wither Hills is supporting the planting of up to one million juvenile oysters in the Chesapeake Bay.
Click to view a list of restaurants and retailers who offer Wither Hills' Sauvignon Blanc, Pinot Noir, and Rose of Pinot Noir near you!