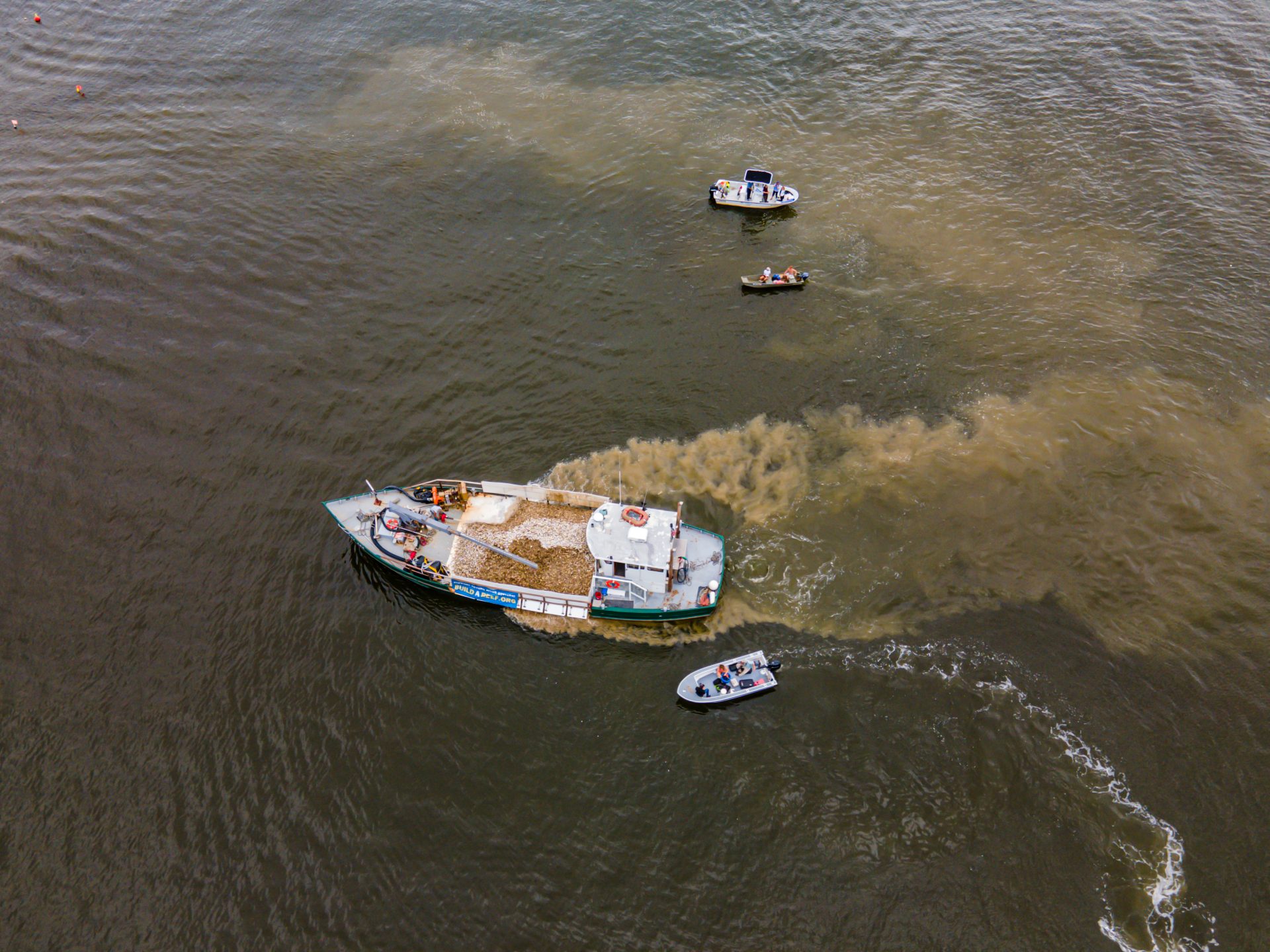 ANNAPOLIS, MD, June 8, 2023 – Today, the Severn River Association (SRA) and the Oyster Recovery Partnership (ORP) planted 15 million juvenile oysters between the Route 50 and Naval Academy bridges as part of an ongoing effort known as "Operation Build a Reef: Severn River" to restore oysters to Maryland's capital river. This is the fifth year that the organizations have teamed up to rebuild vital oyster reefs aimed at restoring the health of the Severn. Oysters are beneficial because they provide valuable ecosystem services by filtering water and creating vital habitats for other marine species, including Maryland's iconic blue crab and rockfish.
Operation Build-a-Reef connects with residents to raise funds in support of the oyster restoration work. Since 2018, the SRA and ORP have raised enough to plant 115 million oysters on sanctuary reefs in the Severn. Additional funding for today's planting is provided by the Maryland Department of Natural Resources and corporate sponsor, Smyth Jewelers. This year, former Oyster Advisory Commission member Doug Legum also made a generous offer of matching funds to leverage private donations. Oyster larvae are supplied by the University of Maryland Center for Environmental Science Horn Point Lab in Cambridge, MD.
"The Severn River Association and our partners at Oyster Recovery Partnership are fully committed to the restoration of the Severn's oyster population, and Build-A-Reef is a key part of that effort," said Jesse Iliff, executive director of the Severn River Association. "SRA's restoration strategy extends from the upland to the shoreline, and right into the river itself through the planting of tens of millions of oysters each year. With each planting like this, we come closer to realizing our vision of a thriving Severn River."
"Much of ORP's work is focused on large-scale restoration projects on Maryland's Eastern Shore. We're pleased to be working on Operation Build-a-Reef: Severn River in our own backyard again this year. We are grateful for the support of Governor Moore and Secretary Kurtz and our federal partners, especially Senator Cardin and Senator Van Hollen," said Ward Slacum, executive director of the Oyster Recovery Partnership, an Annapolis-based nonprofit that implements much of the state's oyster restoration strategy.
Bay-wide Build-a-Reef efforts are sponsored by Smyth Jewelers, "Smyth is thrilled to sponsor ORP's Build-a-Reef campaign again this year. The Chesapeake watershed is an integral part of our beloved Maryland's future, and we are honored to help with this cause. By committing to plant 1,000 oysters for every engagement ring sold through the season, we hope to help ORP accomplish its mission of oyster restoration in the region again this year." says Bob Yanega, Chief Financial Officer of Smyth Jewelers.
Today's announcement was made at an event at the Jonas and Anne Catharine Green Park, within view of the targeted reef. Reflecting on the damage done to the Bay and its tributaries in the past, County Executive Steuart Pittman noted that "bringing it back is not easy, but it is God's work. It's nature's work. It helps us solve this fundamental challenge we have of how do human beings and nature actually live together and thrive. But this is a great annual event, and it is so important, so thank you for what you're doing."
Delegate Dana Jones echoed the spirit of gratitude, saying, "this work is so critical in so many ways, and to have folks who care so deeply, are so unbelievably intelligent, and their never-ending energy and love for the Chesapeake Bay, for our tributaries is constantly showing in the amazing work that they're doing."
---
The Oyster Recovery Partnership leads Chesapeake Bay oyster restoration efforts. Since 1994, we have planted over 10 billion oysters and recycled 280,000+ bushels of oyster shell.
The Severn River Association connects the people who live, work, and play on the Severn River to restore and protect it for all of our communities. Oyster restoration is a key component of our vision for a thriving Severn River.