Now, more than ever, watermen, oyster farmers, restaurants and suppliers need our help.
During this time, many of us are seeking a taste of normalcy, a taste of what we know and love, and for a lot of us, that's the local catch. We've compiled a few simple ways below that you can support your neighborhood seafood restaurants, markets and suppliers at a time when they need it most. And, for you sea–foodies, perhaps when you need it most, too.

Eat more Seafood
To keep the Bay's seafood industry working through these tough times, the simplest and most effective action we can take is to eat more seafood. Shopping locally at a trusted market supports fishermen and their families, and it keeps our coastal communities thriving. Fishermen, after all, purchase fuel, bait and other supplies from businesses in their area.  
Buying local seafood has always been an important way to contribute to the strength of our waterfront economy. Over the years, ORP and its partners have developed a number of resources intended to help you take advantage of the Bay's bounty.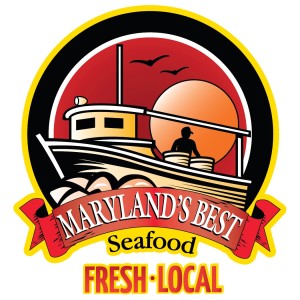 Looking to find out what's in season? How to best cook that catch? Maryland's Best Seafood is a great resource for all things Chesapeake Bay seafood! Their seafood guide showcases the options available from Maryland's wild fisheries and aquaculture, tips on how to handle and store fresh seafood, some great oyster, fish and shellfish recipes, and more. Our Shell Recycling staffer, Dan Worrell, has also kindly volunteered his grandmother's favorite crab cake and crab imperial recipes, linked here. He swears it's a must-try! 
If you needed another reason to enjoy the Bay's bounty, it's been found that seafood – especially oysters – are packed with vitamins, minerals and nutrients, including immune–boosting and heart health properties. According to the FDA, fish and shellfish support strong bones, brain development, and a healthy heart and immune system. The Journal of the American Medical Association found that eating fish at least twice a week reduces the risk of coronary death by 36 percent and the overall rate of death by 17 percent.  Now that's a win-win! 

Remember our Restaurants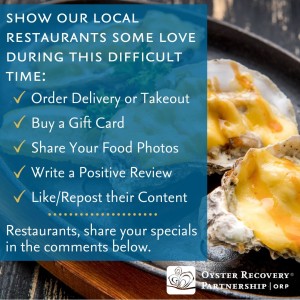 In place of in-house dining, many local restaurants are working to keep the doors open, lights on and support their staff with to-go orders. Restaurants throughout the region are offering pickup or delivery on menu items, unique food specials, and even fresh produce and meat. Additionally, some spots are still honoring happy hour pricing or offering to-go deals – and to-go alcohol! 
Supporting restaurants at this time also supports the entire food system, including the suppliers that serve them. Here are a few simple ways you can help:   
Order Delivery or 

Takeout

:

 

Enjoy your favorite restaurant dishes at home with

 

curbside pickup or 

no contact delivery

. To order, simply call ahead or use a mobile food delivery app. 

Buy a Gift 

Card

: 

Support restaurants

 right 

now 

and you'll have a great dining experience to look forward to later. 

If you're able, y

ou can even stock

–

up

,

 so you have gifts 

at the ready. 

 

Engage on Social Media:

 

Like, share and repost 

restaurant 

content

,

 along with 

a

 of 

photo of your meal. This provides restaurants with a

n

 

extended

 reach, 

free

 advertising and 

give them a

 

boost when 

they need it most.

 

 

Leave a 

Positive

 Review: 

Now is the time to leave that glowing review you've been meaning to post for months. No amount of advertising can stack up to real, genuine 

customer feedback

, so take a few minutes and 

share your experience

. 

 
Need help determining what restaurants are open? Visit Maryland has curated an ever-growing, comprehensive list of restaurants offering takeout and delivery, located here.  
Craving seafood, but need a little inspiration? Check out our list of 300+ Shell Recycling Alliance members located throughout Maryland, DC, Virginia and Pittsburgh, Pa. View their websites and social media accounts, or give them a call to hear more about their operations and offerings.  
And be sure to follow our Instagram and Facebook stories over the next week, as we share some carryout promotions. [Restaurants, feel free to tag us @oysterrecovery or comment with your specials.] 

Order D

irect from 

Seafood 

Suppliers

 &

 

Farms
Looking for some fresh local seafood direct from the supplier? With restaurants operating at a lower capacity, small retailers are an increasingly important outlet for local fishermen and watermen to sell their products. Many oyster farms, seafood distributors and markets are offering online/phone ordering for curbside pickup and carry-out.  
We've compiled a list below of Maryland oyster farms working to serve direct to the public. If you don't see your favorite farm listed, view this link to Maryland and Virginia oyster farms to contact them directly. Additionally, please remember to support hardworking watermen and women by purchasing from seafood markets throughout the area, many of which are listed on Visit Maryland's Crab & Oyster Trail site. Some grocery stores also carry local seafood, so keep an eye out while you are doing your shopping and choose local if possible. 
[Suppliers, please let us know if you are selling direct and we'll be sure to add you below!] 
Distributors: 
JJ McDonnel

l & Co

.

 in 

Elkridge

, MD

 is currently taking orders up until midnight the day before you would like to pick up. Pick up times are Monday-Friday, 5 a.m. to 2 p.m., and Saturday, 5 a.m. to 12 p.m. 

Click here

 for more information and their daily seafood menu.

 

Profish

 in D

.C.'s Ivy City

 

has

 their wholesale seafood 

available for 

direct ship

 to your home

,

 

or for

 

p

ick up

 next to their warehouse. 

Visit 

their 

website

 

for the 

daily 

menu and ordering instructions. 

 
Oyster Farms: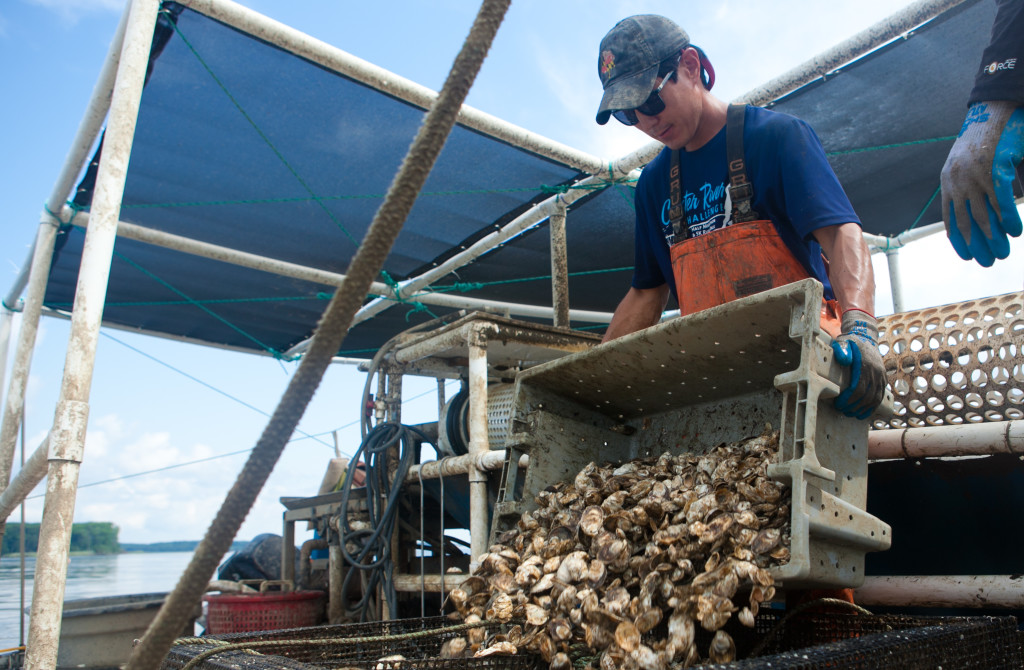 Spread the Word
Individual choices can make a big impact during these challenging times. Remember to share your decision to buy local seafood with your friends, families and followers, and be sure to let them know how they can support the local seafood industry too!  
Here are some great ways to spread the word and encourage others: 
Share this post on your social media and tag some of your local seafood spots

 

Follow your favorite 

seafood businesses

 on social media and share their posts

 

Try a new recipe

,

 

post 

the results

,

 

and 

challenge your friends 

and family 

to do the same

. Why not

 enjoy the meal together over a video call

? 

 
Now 

that you're on the hook, 

get out there and spread some seafood love!