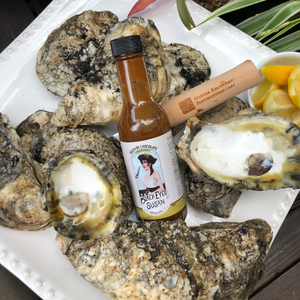 Annapolis, MD  – Frederick-based hot sauce maker Black-Eyed Susan Spice Co. is igniting a passion for oysters by donating a portion of proceeds to the Oyster Recovery Partnership, the leading nonprofit working to rebuild the Chesapeake Bay's native oyster population. The company, founded in 2017, specializes in hot sauces and spices with their flagship "Death by Chocolate" flavor available in markets throughout Maryland and select states. The new partnership will help plant millions of additional juvenile oysters in Chesapeake Bay waterways.
"Personally, I am a Biologist by training and profession, and have always had a passion for estuary ecosystems and the invaluable invertebrates they host," said Tim Sheets, partner and co-founder of Black-Eyed Susan Spice Co. "Given the importance of oysters to – and our company's love and appreciation for – the Chesapeake Bay, this partnership was a no-brainer way for us as a way to give back. Plus, Death by Chocolate is an excellent oyster pairing!"
Oysters are a critical species to the Bay's long-term recovery because they filter excess nutrients and serve as habitat for a multitude of marine life. The sale of every bottle of Black-Eyed Susan Spice Co.'s hot sauce funds the planting of an average of 125 oysters in local waters, providing a spicy and delicious way for the public to support clean water projects.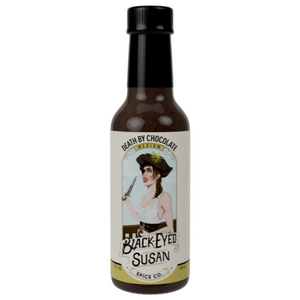 "We're fortunate to have a partner like Black Eyed Susan Spice Co. who not only provides financial support to help us meet our recovery goals, but also to raise public awareness on the important role oysters play in the Bay's recovery," said ORP Executive Director Ward Slacum.
Using the latest in innovation in science, the Oyster Recovery Partnership works collaboratively with its restoration partners to produce spat on shell and deploy the resulting juvenile oysters onto strategically-selected sites in the Chesapeake Bay. These efforts aim to bolster oyster populations, assist oyster farmers in a production, support the wild fishery harvests and re-create large, healthy reefs last seen 50 to 100 years ago. Over the past two decades, the Oyster Recovery Partnership has planted nearly 9 billion oysters on more than 2,500 underwater acres throughout Maryland. Learn more at oysterrecovery.org.
To try Black-Eyed Susan Spice Co.'s line of hot sauces, stop by Baltimore's Fells Point Fun Fest Oct. 2-3, or shop online at blackeyedspices.com.