This winter, embrace that Hygge lifestyle and nerd out on all things bivalve! Learn all about the mighty oyster from the comfort of your warm, cozy home. Whether filtering water, creating habitat, or being darn delicious, oysters are incredible in SO MANY ways! Join us for a three-part series all about our favorite bivalve – topics and dates below.
Special thanks to MOM's Organic Market for sponsoring this free, virtual series!
Winter Oyster Webinar (WOW) Series – Register below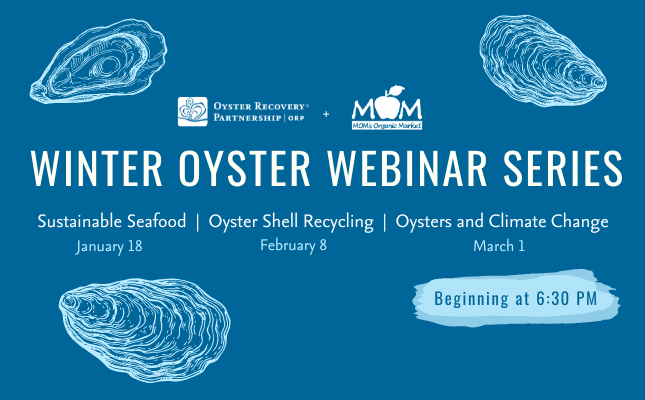 Sustainable Seafood – Wednesday, January 18

Sustainable seafood is the most environmentally efficient source of protein on the planet. In the United States, both wild-caught and farmed fish and shellfish are managed under a system of enforced environmentally responsible practices. Join this webinar to learn about MOM's Organic Market's sustainable seafood initiative, and how to take advantage of their direct to consumer oyster sales in partnership with True Chesapeake Oyster Co.
YOUTUBE RECORDING AVAILABLE:
https://youtu.be/9ao2eQWTc9o

Oyster Shell Recycling – Wednesday, February 8

Oyster shells are the best, most natural materials that can be used to rebuild oyster reefs – and they are in critically short supply. Attend to learn how oyster shells are used in Chesapeake Bay oyster restoration efforts, about ORP's Shell Recycling Alliance (the largest shell recycling program in the US), and how you can help restore the Bay's oyster population simply by eating oysters and making sure the shells are recycled – including at MOM's Organic Market.
YOUTUBE RECORDING AVAILABLE:
https://youtu.be/VEpSCGSCcss
Oysters & Climate Change – Wednesday, March 1

Learn how oysters are being impacted by global climate change – and how they can potentially help mitigate climate change's effects in the Chesapeake Bay. Originally presented as part of the 2022 WOW Series, this webinar is back by popular demand and updated with the latest climate change research and developments.
Zoom Link:
https://us02web.zoom.us/w/88375611611?tk=MvBG7LlQQlAU5SjsPHxQrkxB39xPv1N0z6Em7D22djU.DQMAAAAUk5jQ2xZYbjNSTWVjc1NoeUxtV1AzM0ZVTC1BAAAAAAAAAAAAAAAAAAAAAAAAAAAAAA&pwd=L3dhNFkwOFp2NTRMb0R3eUFHMEZudz09
Password: WOW