"Give 25 More" to the Chesapeake Bay this Giving Season!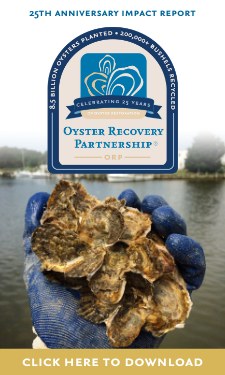 For 25 years, we've embraced the power of the oyster to help restore the health of the Chesapeake Bay – and, together, we've made remarkable progress! Get full details in our newly released 25th Anniversary Impact Report – download it here! (Link not working? Copy + Paste this URL to your browser: bit.ly/ORP25Anniversary)
As we welcome a new decade, we've set some big, audacious goals to continue healing our Bay and restoring Maryland's native oyster population (see "Oysters are our Future" in the 25th Anniversary Impact Report). Help jumpstart our progress and ensure these goals are achieved!
As a silver anniversary gift, please consider "Giving 25 More." Increase your end-of-year donation by $25 or 25%. Thank you for your support!

Donate online at https://oysterrecovery.org/donate25