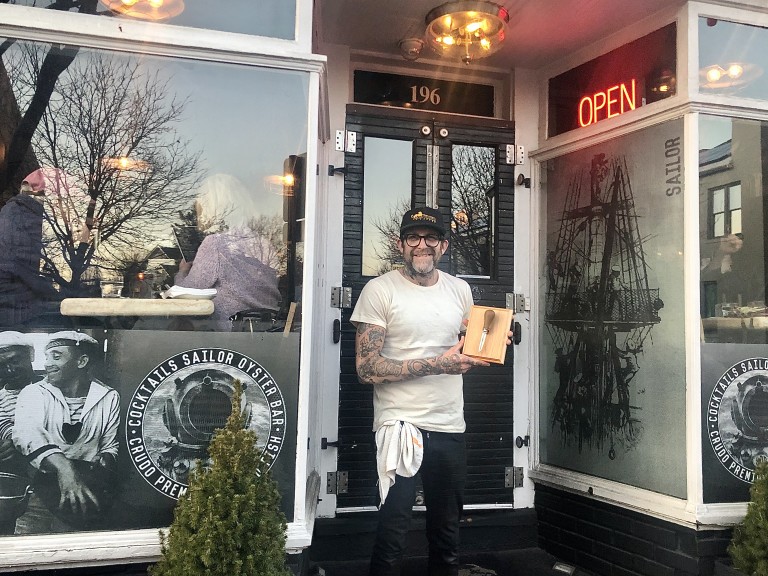 Oyster Recovery Partnership Announces Top 10 Contributors
The Oyster Recovery Partnership's shell recycling program collected 36,000 bushels of oyster shell from hundreds of seafood businesses throughout the Chesapeake Bay in 2019, an overall record and testament to the region's ever-increasing support of oyster restoration. The year's top contributors are restaurants and seafood suppliers in Maryland and Washington, D.C.
"This year we celebrate a decade-long partnership with local businesses dedicated to Chesapeake Bay stewardship and the conservation of our cherished oyster," said ORP Executive Director Ward Slacum. "Many of these businesses and community members believed in our program when it was just one pick-up truck collecting shell from a handful of participants. Thanks to their steadfast support, that one-truck operation has grown into the Shell Recycling Alliance we see today, with 340 members supplying enough shell to rebuild hundreds of acres of oyster reef annually."
Since the Shell Recycling Alliance's launch in 2010, ORP has reclaimed 213,000 bushels of shell, which equates to 7,400 tons kept out of area landfills, approximately $350,000 saved by local businesses in waste collection fees, and enough substrate to support the planting of 1 billion spat on shell in local waters. The program is the nation's largest shell recycling network with approximately 340 member businesses and over 70 public shell drop off sites in Maryland, Washington D.C., Virginia and Pennsylvania.
The Top 10 Shell Recycling Alliance contributors of 2019 are:
"We're so proud to once again be the number one shell recycler for ORP," said Congressional Seafood Vice President Jonathan Pearlman. "Our staff take great pride in this program and work diligently to encourage all restaurants who shuck oysters to get involved. The Chesapeake Bay is our local treasure and anything we can do to increase our presence in the world of environmental consciousness is very important to us."
Oyster shell is an essential building block for a healthy oyster population because it provides oyster larvae a place to attach and grow. In fact, every half shell is able to host up to 10 spat (baby oysters). Oysters play a vital role in improving Bay health by filtering excess nutrients from the water, and their reefs create habitat for a multitude of marine life.
After collection, shell is aged outdoors for one year, washed and then set with spat at the University of Maryland Center for Environmental Science Horn Point Laboratory Oyster Hatchery in Cambridge. ORP then works with restoration partners to plant the spat-on-shell onto specially selected reefs throughout the Chesapeake Bay. To date, ORP has planted 8.5 billion oysters on more than 2,700 acres of oyster habitat in Maryland since 1993.
On a national scale, shell recycling programs are becoming a mainstream practice among coastal communities and businesses, some of which are highlighted here. Businesses and individuals who recycle their shell in Maryland are eligible for a state tax credit of up to $1,500 annually.
Learn more about ORP, the nation's leading nonprofit dedicated to the large-scale restoration of oyster reefs in the Chesapeake Bay, at oysterrecovery.org.
Media Contact: Karis King, ORP Communications Manager: 410-990-4970 | [email protected]