#GivingTuesday, the international holiday celebrating giving back, is happening next Tuesday, November 30th. Whether you choose to give your Time, Treasure, or Talent, help us raise awareness about the mighty oyster – and $10,000 to plant more in the Chesapeake Bay! Your #GivingTuesday support will double as it's being matched dollar-for-dollar by our Board! 
Give Your Time:  
Learn to Shuck Like a Pro at Peerce's 




Tuesday, November 30, 2021 | 5:00 PM – 7:00 PM | 12460 Dulaney Valley Road, Phoenix, MD 21131 | 

Purchase Tickets


In honor of #GivingTuesday, Peerce's will be serving freshly shucked oysters and other light fare paired with Wither Hills Sauvignon Blanc and Argyle Blanc de Noir sparkling wine! Your ticket includes a one-on-one tutorial with a professional shucker, plus the opportunity to purchase featured wines at a reduced price. 
Give Your Treasure:  
Help us reach our $10,000 fundraising goal by donating to ORP! 

Your contribution will be matched dollar-for-dollar by ORP's board of directors

 – up to $5,000! Feeling generous? 

Donate now

. 

 

Shop our 

Holiday Gift Guide

! It features giftable items from our partners that help put oysters back in the Bay! That's right; when you purchase directly from them, you are making a BIG difference for our beloved Bay. Do your holiday shopping with these vendors and feel great about giving back. 

 

Our partners at Route One Apparel are feeling generous, too! All you have to do is make a donation of $50 or more to ORP on 11/30, and Route One will email you a $10 coupon code to redeem on their site.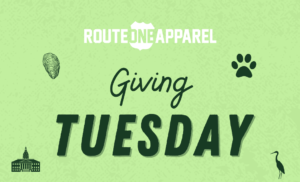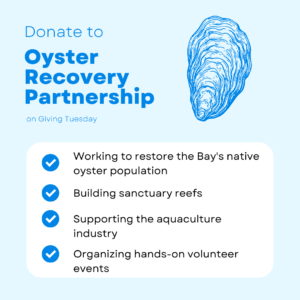 Give Your Talent: Everyone has something to give – and every act of generosity counts! Here are a few examples of ways you can contribute your talents to help ORP on #GivingTuesday.