Pittsburgh is first Pennsylvania city to engage in program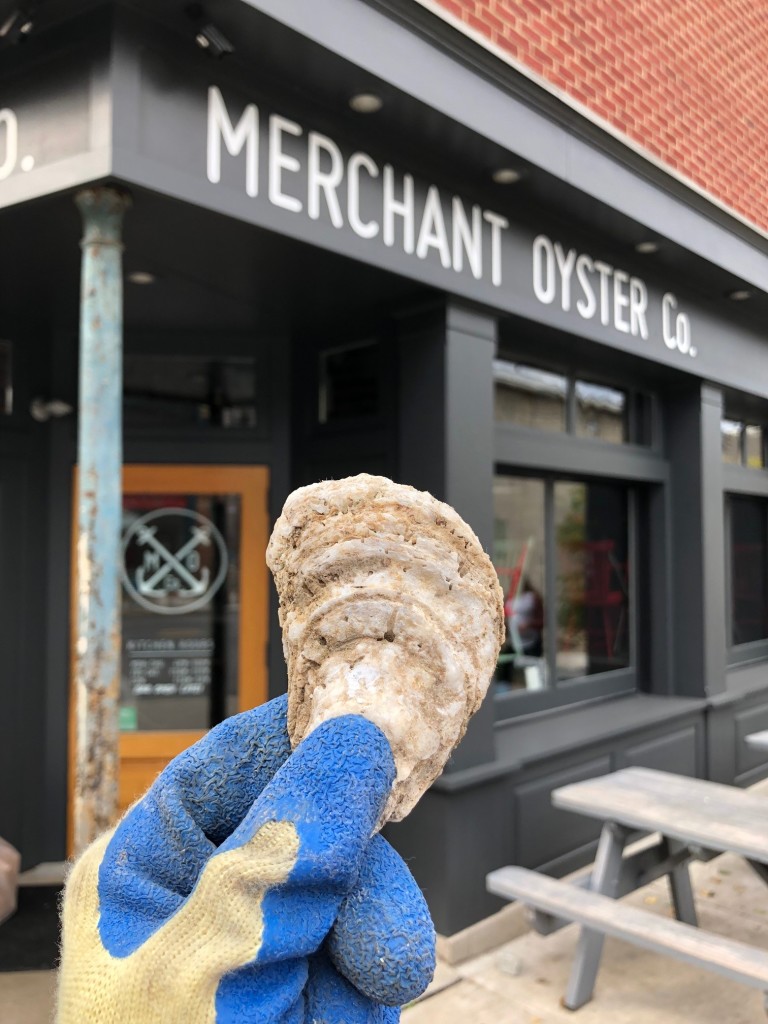 Pittsburgh, Pa. (May 23, 2019) —  The Maryland-Based nonprofit, the Oyster Recovery Partnership, (ORP) has expanded its shell recycling program, the Shell Recycling Alliance, to Pittsburgh, Pennsylvania, where it has seen overwhelming success seven months into operations. The program now has six Pittsburgh-area restaurant members, who have recycled 559 bushels, or 19 tons, of shell since collection began. This shell will serve as substrate to support the planting of up to 2.8 million oysters in Chesapeake Bay waters.
"Now that the Alliance has really taken hold in the DC-Maryland-Virginia region, we're seeking to engage other major metropolitan areas in recycling their oyster shell," said ORP Executive Director Stephan Abel. "Pittsburgh has seen increased support for sustainable food options and eco-friendly practices, making it a natural fit for the program's expansion."
Through the Shell Recycling Alliance, ORP provides free shell collection on a set schedule to area seafood businesses and public drop sites, using the recycled shell to build oyster reefs. After soft-launching the program in Pittsburgh with three restaurants last November, the current participants are Eleven, Merchant Oyster Co., Muddy Waters Oyster Bar, Off The Hook, Spirits & Tales at the Oaklander Hotel and St. Clair Country Club. The nonprofit Sustainable Pittsburgh along with local chef and sustainability advocate, Jessica Lewis, were instrumental to helping introduce and initiate this program in the area.
"Pittsburgh is the first city in Pennsylvania to engage in this oyster shell recycling program, which is further demonstration of our region's restaurants embracing sustainable business practices," said Sustainable Pittsburgh Executive Director Joylette Portlock, PhD. "By working with the Oyster Recovery Partnership and through our Sustainable Pittsburgh Restaurant program, it has been a privilege to be able to help connect restaurants with efforts like this – and help transform the industry."
"It's a good feeling to give back, and teach my cooks, and our patrons about oyster recycling; we are doing something more, something bigger, and it matters," said Jessica Lewis, Executive Chef, Spirits & Tales.
In Pittsburgh, the shell is kept in airtight barrels until its monthly pickup, at which time the containers are exchanged, loaded up and transported to Maryland's Eastern Shore. After arrival, the oyster shell is aged outdoors, washed, set with spat (baby oysters) and planted on protected sanctuary sites where they will grow to into water-filtering oyster reefs.
Originating in Maryland in 2010, the Shell Recycling Alliance has become the largest oyster shell recycling network in the nation, with nearly 350 member seafood businesses and 70 public drop off sites throughout Maryland, Washington D.C., Virginia, and now, Pittsburgh, Pa. The expansion was made possible in part by grant funding from the National Oceanic and Atmospheric Administration.
Natural oyster shell is vital to a healthy oyster population because it is the preferred material for oyster larvae to attach and grow. On a national scale, shell recycling is becoming a mainstream practice among coastal communities and businesses. As the public becomes increasingly invested in oysters, groups are establishing their own restoration and education programs, some of which are highlighted here.
The Oyster Recovery Partnership is always seeking new members within its current service area to join its shell recycling program, which offers free, regular pickups to qualifying seafood businesses throughout the Chesapeake Bay region. Mid-Atlantic municipalities looking to launch shell recycling within their communities are invited to reach out to see if ORP might be able to assist. Learn more at shellrecycling.org.
###
Using the latest in innovation in science, the Oyster Recovery Partnership works collaboratively with its partners to produce spat on shell and deploy the resulting juvenile oysters onto scientifically-selected sites in the Chesapeake Bay. These efforts aim to bolster oyster populations, assist oyster farmers in a production, support wild fishery harvests and re-create large, healthy reefs. Over the past two decades, ORP has planted nearly 8 billion oysters on 2,460 underwater acres throughout Maryland. Learn more at oysterrecovery.org.
Contact: Lauren Donnelly | 410-990-4970 | [email protected].