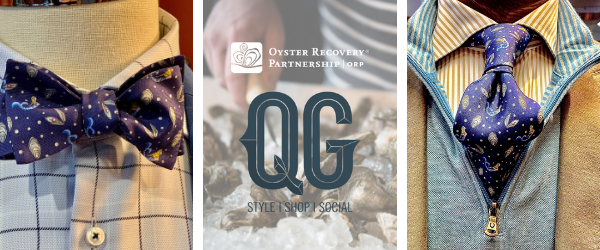 Make gift-giving more meaningful by shopping the oyster neckwear collection, a collaboration with The QG. Your Bay-loving friends and family will appreciate a stylish cravat that plants oysters! Limited quantities are available – only about 25 neckties and 17 bowties are left so act fast! to get yours! A portion of proceeds benefit Oyster Recovery Partnership.
The COVID-19 pandemic and resulting non-essential business shut down directly hit The QG, a great friend and partner to ORP. Providing hair services, spa, retail, and dining, the owner Craig Martin, and his business partner had to immediately pivot from expert in-house experiences to what they could offer solely online.
"We are doing less than 5% of our former revenue… Our restaurant which never did takeout before was completely changed to doing a curbside menu and to go cocktails and liquor… We have 2 tailors on site that went from supporting our custom clothing department and doing alterations to making masks full-time. Because of the shortage of fabric, we're taking spring shirting inventory that we haven't been able to sell during closure and using them for mask materials."
To assist small businesses like The QG with weathering the pandemic, please consider purchasing a gift card, shopping locally for menswear, womenswear and accessories now all on sale – and/or ordering carry-out food and cocktails.
After the pandemic has passed, please consider supporting QG Community Charities' major fundraising event, Bourbon and Bowties, benefitting ORP and other worthy causes. The QG offers memberships that include the barbershop, spa, cigar lounge, wine, and speakeasy. For more details and benefits, reach out to The QG's membership director Dave Couture, [email protected].